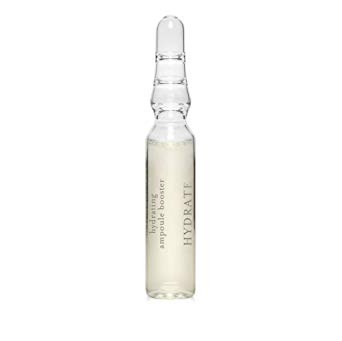 1) What Is Serum?
Do you know the difference between serum and ampoules?
In most skin care routines, serum is the step after cleansing, but before moisturizing. And, while these lightweight, concentrated formulas have consistency in common, the benefits vary. From serums formulated with antioxidants to layer under your sunscreen during the day to anti-aging serums to press into your skin before bedtime, serums may have a lightweight texture, but when it comes to skincare benefits they pack a major punch.
Think of a serum as a sheer film that covers your face while it's concentrated formula works to target your skin care concerns. Of course, while serums being lightweight and sheer is a nearly universal quality you can expect from them, beyond that they're becoming more diverse. In addition to the thin gels you've likely used before, more watery serums, ones that require a dropper, are rising in popularity.
Vitamin C serum immediately leaves skin smoother and softer. With time, skin becomes brighter, feels tighter, and your complexion will look more even.
When it comes to anti-aging, it's safe to say you'll want products with potent formulas. Hence why anti-aging serums are so widely adored. Enriched with active ingredients, this concentrate is formulated to boost visible signs of youthfulness and to help skin's recovery during the day and night. From the very first drops, skin looks smoother and more luminous.
While serums with an aqueous texture, they aren't the only option out there. For something more reminiscent of a moisturizer, try a formula that brings together face creams and serums. It contains encapsulated retinol, helps reduce the appearance of fine lines and wrinkles and restore radiant-looking skin.
Want to know the difference between serum and ampoule? Read the next paragraph.
2) What Is An Emulsion?
Emulsion are used to soften and smooth the scales of the skin, which help reduce rough, flaky skin. They are also occlusive agents: substances that provide a layer of protection that helps prevent moisture (water) loss from the skin.
In a nutshell: Emulsions are lighter versions of moisturizing creams. Unlike most heavy facial creams, emulsions are typically water based, which means they go on lighter and thinner than creams. In some cases, emulsions come in gel or almost-liquid forms. On the whole, emulsions absorb into the skin much more quickly and don't sit on top of the skin the same way some creams do.
What do emulsions do?
Emulsions are moisturizers. They offer many of the same benefits of a cream, just in a lighter formula. They're formulated to act as a moisture lock that seals in all the hydration and benefits of your essence and serums.
However, many people use emulsions as a continuance of their treatment products, not just as a moisturizer. For people using brightening essences and serums, this emulsion ensures that the moisturizing step of their regimen furthers the treatment portion and locks in the goodness of all the prior steps.
When do you use it?
Emulsions are the in-between product between serums and creams. It's not quite as light as a serum, but not quite as heavy as a cream. Similarly, it isn't as concentrated as serums, but more targeted than heavy creams. And so, that's right where it goes in the skin care routine after serum and before your final moisturizer. But how you use an emulsion really comes down to your skin type.
Emulsions for each skin type:
For very oily skin, emulsions can be a great option as your final moisturizing step before applying SPF. The fact that emulsions are lighter, water-based, and more easily absorbed make them attractive to people with oily skin as a way to get the hydration your skin needs without the weight and sheen of a cream. And if you live in a place that gets hot and humid, an emulsion can be a great option to keep your skin cool and light in the heat, while still delivering the hydration it needs.
However, you should make sure that the emulsion you're using is specially targeted for hydration to be sure your skin doesn't get the short hand on moisture
For combination and acne-prone skin, you can use an emulsion to target oil, blemishes, and excess sebum. This can be done by applying an emulsion to the whole face or to specific areas, like the T-zone. You can put it on your whole face or you can use it on its own. Or, if you feel like your skin needs more moisture, you can follow it up with cream—it's ultimately up to you!
For dry skin, emulsions are seriously a lifesaver. When you double up on emulsion and cream, the emulsion locks in the moisture from your prior steps and the cream can be focused on just soaking into the skin and hydrating it even further.
For even more moisture, you can also mix a facial oil into your emulsion since emulsions are water based and mixing in oil means your skin gets both water and oil-based moisture.
At the end of the day, it makes sense why emulsions have been so hard to pin down: because they have different uses and purposes for everyone.
Just like treatment products, what emulsion you use and how you use it really depends on your specific needs. But whether you're trying to find a lighter moisturizer for humid weather, or you're looking for another layer of moisture to keep your skin from drying out, emulsions can certainly find a way into your routine.
3) What Is An Essence?
It used to be that essence was the lighter, less concentrated version of serum but, the roles have since reversed. Just like serums are changing and becoming lighter and more watery in texture, essences are changing and being made into creamy or gel-like formulas. No longer will you need to waste cotton pads sweeping liquid essences over your skin, you can simply plat on these slightly thicker formulas. Essence is meant to be used after skin has been prepped through cleansing and using a hydrating facial toner.
4) What Is An Ampoule?
It's likely that you may have heard of serums before, but maybe less likely you've heard of ampoules. An ampoule is like a serum, except it typically has a higher concentration of one active ingredient. Ampoules are great ways to target specific skin concerns like dark spots, obvious signs of aging, or even dry skin.
They can also be used in addition to anything else you put on your skin a friendly skin care companion that gets along with anyone!
How To Incorporate A Serum, Emulsion, Essence, And Ampoules Into Your Skin Care Routine
Now that you know all about the differences between serums, emulsions, and essences, you're free to add them into your skincare routine. And you don't have to play favorites, you can use them all as long as you know when to apply them.
Out of the four, essences should be applied first, as they're the thinnest. Apply your essence of choice directly after using a toner or a cleanser. Next, it's time for your serum. That means an emulsion should come last in your routine.
Should you want to give your skin an added boost, apply an ampoule to top everything off. In-between each of these steps, be sure to give the product a minute or two to sink in, then keep layering. And just in case, if you need any help remembering the order in which to apply, it's almost always correct to start with the thinnest formula and work your way up.
There's no rule saying you have to use all three at the same time. You can also choose to split up your serum, ampoule, emulsion, and essence between your morning and night routine. It's up to you.
Don't forget to read more on the best SPF level for you in our next article in this blog.